Aggressive Strength Magazine Issue 198 - 8-25-2011
1. 13 Tips on Living Life Aggressively with Mike Mahler
By Yusuf Clark http://www.yusufclack.com
Mike Mahler is someone whose done some pretty remarkable things with his life and something tells me the most exciting chapters are still to be written. He's built a wildly successful fitness business from scratch, earned respect as an expert in the field of natural strength, kettlebell training, and now on the cutting edge of nutrition and hormone optimization. But what makes him stand out to me is his high standards for himself in all areas of life. I feel fortunate to have had the chance to interview him. In his responses below there is literally zero "fluff." I counted a total 13 distinct life lessons and tips you can take away from his replies.
——————————————————————————————————–

YC: Mike, one of the themes I find in your work and your teachings is the recognition that nothing exists in isolation. You always address health matters systemically. We often look for single "cause and effect" solutions to our challenges but you remind us that it's many pieces that fit together for optimal health, hormones, or strength.
That being said, maybe you have some starting points you recommend as initial causes to get some momentum on knocking over some of the key dominoes?
MM: For real strength and vitality a multi-faceted approach is crucial. Eating right and training properly are both of course very important but we need to go beyond that. If you do not have a career that gets you excited and friends that hold you accountable to be your best, then you are really missing out. When you take charge of your life on multiple fronts, you realize how exciting and fulfilling life can be. That does not mean it all needs to be done at the same time. Focus on one component at a time. Perhaps you are out of shape and starting a solid training program and nutrition plan is the best move to make. Once you start losing fat and feeling better you will automatically start thinking about other areas of your life to improve. Never get complacent and always work on taking it to the next level. Maintenance is an illusion as we are either getting better or worse.
YC: "Maintenance is an illusion." I find that one realization motivating whenever I reflect on it. If you think you're "maintaining" odds are you're slipping.
Here in the Silicon Valley the pace of life is pretty frenetic. What would you advise a person who is totally consumed by their work, feels he is doing everything he can to stay afloat and provide for his family, yet he knows he needs to protect his health to avoid a breakdown in the long run, which could potentially cause harm to those who depend on him?
MM: All you can do is the best you can with whatever life throws your way. Get as much sleep as you can and eat the best food you can afford so you can give yourself the most amount of energy possible to take care of yourself and your family. Engage in exercise that energizes you and helps you stay on top of things rather than programs that just add to the stress you already have.
Start thinking about passive income sources as well and no I am not talking about MLM. Develop some products on your own or buy stuff you use at wholesale and sell at retail. Relying on any one income source is a mistake as that can be taken from you at any moment as far too many have learned the hard way. Take charge of your finances and develop several income streams.
YC: Indeed. "All you can do is the best you can…" So many of us are "overwhelmed" because we're really asking of ourselves more than what's possible in the short term. One quote I like related to what you point out is, "have unrealistic dreams with a realistic plan."
You encourage people to live life aggressively. Why do see this as continuing to be important and relevant when some feel that those of us in the "civilized" world have evolved passed this need to be "aggressive?"
MM: Living life aggressively means taking charge of your life plain and simple. It means not being passive and docile and standing up for what you believe in and not giving up on meaningful goals. It has nothing to do with being violent or abusive to others. If being a pawn in the game of life is the civilized thing to do then I choose to be a barbarian. Many people are punching bags in the game of life and live re-actively. Why not be proactive instead and pursue the life you have always wanted? People need to have the courage to improve and evolve and that is what living life aggressively is all about.
YC: Great stuff. That's what's so powerful about your message Mike. More than anyone else I've seen in this field, you really articulate the role training should play in one's life and put in a needed context.
Part of that "ideal life" for most of us is having a trim waistline. Many in the corporate world just want to maintain a slim waist and aren't too concerned with "strength." What do you feel are the some of the benefits of pursuing strength that might not be so obvious to the ambitious person, who wants a lot out of life but doesn't see the pursuit of physical strength as part of that process?
MM: We all have an obligation to society to be strong members. We should be at our best at all times and having physical strength and vitality is an important component. When you develop physical strength you learn a lot about yourself. You see how well you push yourself and how well you handle pain. Do you give up when things get hard? Or do you suck it up push through? Do you give up when progress does not come easily? Or do you find a way to make it work. The more you know about yourself the more successful and fulfilled you will be and intense physical exercise teaches us a lot about ourselves.
YC: Awesome stuff. Maybe "self-awareness" is the most valuable and unintended byproduct of adopting an intense physical regimen.
One thing that is obvious about you is self-respect. You command respect with the way you carry yourself and don't allow anyone to belittle your value or dictate terms to you. Do you see that as a product of your strength or is your dedication to strength a product of your own self-respect?
MM: Thanks and I would say this it is a product of my strength and a component of that strength is brutal self-inventory. I do the hard work to determine why I do what I do and think the way I think. If something is not working for me for the better I relinquish it and push forward. It is very synergistic. Training makes me a stronger person and being a critical thinker with a moral code makes me better at training. It is not one or the other as both feed off of each other.
Getting stronger can instill confidence for sure but not always. Some people get stronger and bigger and become bullies and I have no respect for that. My greatest strength is compassion. Not just compassion for other people but for animals as well. Being strong and fit is not enough. Being strong and healthy should make you a better person.

The accomplishments I am most proud of are not things that I can do physically but times when I showed compassion for other beings in need instead of being disconnected and not getting involved when doing so makes a difference.
YC: A lot there to chew on, incredibly dense. One of the things that trips me out if I reflect on it is just how interconnected things are. You highlighted that feedback loop of support, how one strengthens the other. I've found that's where a ton of motivational leverage can be had, when you sit back and see how an area of your life you want to improve is so intertwined with another area that is not so obvious at first. Mapping out that relationship visually is a cool exercise to try.
Winding down here, I want to get to your Dad, who you've referenced a number of times and cited the fact that he works for the United Nations. You've been overseas a lot as a child, more than most Americans, and have been able to see humanity in a number of different contexts.
Do you think that exposure has shaped your own pursuit of physical excellence in anyway? If so, how?
MM: Yes, I think so. Being exposed to extreme poverty and suffering at a very young age made me realize how lucky I am to have great parents that want the best for me. It also made me value my life and want to get the most of it. An essential part of getting the most out of life is being healthy and vital. If you do not have energy you will not have the fire to get things done and live life fully. The great coach Vince Lombardi once said, "fatigue makes cowards of us all." This is very true, when we have no energy we are not empowered and do not take charge of our lives. The more energy we have from healthy living the more energy we have to pursue the lives we want.
I also view compassion as a strength and seeing people that have nothing made me compassionate to the plight of others and also showed me what real problems are.
YC: Solid gold! Love that quote from Coach Gironda. I think we can all relate to that. It's also, really nice to see you pay tribute to your parents. Many of my readers are parents so hopefully we can take the example of your parents to heart and seek to build ambition in our kids.
Thanks for doing this interview Mike, it's been HUGE thrill for me and I think quite valuable. Wrapping up here, can you leave us with the ONE habit you'd advise every man to cultivate on the path to living an aggressive life?
MM: Be brutally honest with yourself. Evil exists and flourishes when people are delusional and fail to be well calibrated. Being well-calibrated means your perception of yourself is accurate. Just because you have always done something does not mean you need to keep doing it. You can evolve and be better. However, it all starts with being brutally honest. You have to accept the person you are now and then take the necessary steps to improve. Surround yourself with great people that tell you what you need to hear instead of what you want to hear. Be humble and avoid looking down on others. Focus on improving yourself and be an example to others.
Thanks a lot for the interview Yusuf.
YC: My pleasure. I really appreciate you taking time out to do this Mike. I know you'll take good care as you always do
NOW Available!
My new book Live Life Aggressively! What Self-help Gurus Should Be Telling You is finally out. It is available here on my website in paperback and ebook format and also available in paperback and kindle format from www.amazon.com I will be using the 250 page book as a fundraiser for two fantastic organizations. 100% of profit will be donated to: Lifequest Transitions and the Nevada SCPA.
---
Support hormone production, increase energy, reduce muscle soreness, lose stomach fat, and ramp up heart health with Magnesium Oil!
Free Shipping On All Orders (US only)
Why take transdermal magnesium oil over oral magnesium?
One very important unique component of magnesium oil is that it increases DHEA levels big time and is an overall hormone optimizer. According to Dr Carolyn Dean, author of The Magnesium Miracle "as magnesium is absorbed through the skin and underlying fatty tissues of the body it sets off many chain reactions, one of which ends in the production of DHEA."
DHEA is a critical hormone for stress management and balancing the actions of the stress hormone cortisol. DHEA also acts as a back up reserve for testosterone production. Depleted levels of DHEA adversely affect testosterone levels.
Oral forms of magnesium do not increase DHEA levels.
Click here for more information
---
2. How To Perform Handstand Push Ups!
By Timothy Bell
If you're looking to build cannon ball shoulders, improve your balance, and increase your strength in pressing movements, then handstand push ups are something you'll want to attain! A staple in all gymnasts routines, the handstand push up forces you to press your own body weight over head. The added challenge of being upside down and having to balance yourself during the exercise makes them that much more difficult. So even if you're already pressing your body weight over head in other exercises such as the military press, you'll still find the handstand push up challenging. For most people, it can be quite a daunting task to accomplish this exercise because they have no clue where to begin. Rest assured however that this technique is completely attainable for just about everyone! As with any exercise it's important to learn the technique and progressions so that you can step by step work towards the final goal of a full hand stand push up. So lets look at how you too can work towards adding the handstand push up into your array of exercises.
Get Comfortable with Push Ups:
Getting comfortable with basic push ups is an absolute must! This means mastering the push up to the point where its no longer a challenge to you what so ever. Once you're able to perform 15+ regular push ups with strict form, then it will be time to move onto other more advanced push ups. The next step will be to work on Hindu push ups and Dive Bomber push ups like I've outlined in "The Body Weight Solution. Both of these push ups will help you get comfortable being upside down and using your shoulders to hold and press a portion of your weight. Once you're performing these with ease and for 10 or more reps, it will be time to advance to pike push ups!
Master Pike Push Ups:
Pike push ups are an excellent way to accustom your body to the pressures of handstand push ups without having to push 100% of your body weight. Simply get yourself in to a regular push up position, then walk your feet up towards your hands until you're upside down with your feet still on the floor. Make sure your shoulders are beside your ears and try to keep your knees from bending. Then bend from the elbows and lower yourself slowly to 90 degrees minimum, then breath out with force and press yourself back to the starting position! Try starting them with your feet on the ground at first, get comfortable with these and practice them until they're no longer a challenge for 10 or more reps. Once this has been accomplished try pike push ups with your feet elevated on a bench, bar, or ball. This will force you to press a little more of your body weight and take you a little further upside down. Again, take your time and use strict form with both of these techniques, control the entire movement before you move onto the next phase!
Time To Go Upside Down:
Now that you're a little more comfortable upside down and have built some shoulder stability and strength, you'll be ready to try a handstand. Practice holding your hand stands for 30sec-1min each while up against the wall. You'll want your hands about shoulder width apart or just slightly wider, and be sure to be at least a foot and a half away from the wall to avoid hitting your head when you kick up into the hand stand. When you're upside down, press hard into the ground, try to keep your legs together, and avoid swaying. Once you're able to hold your hand stand for 30sec -1min and you're performing multiple reps of feet elevated pike push ups, you'll be ready to try out the hand stand push up!
Tips:
The hand stand push up is no easy feat, try to keep your feet together as much as possible, control your body weight throughout the entire movement, and don't forget to breath out on the press! When lowering yourself, take it slow and only go as low as you can comfortably at first, it will take some time to build up the strength to deep into the handstand push up. When you're finished your set come up to a standing position slowly, a lot of blood will rush to your head and you don't want to get light headed or worse. Remember, it's all about controlling your body weight! For a better idea on how to perform everything mentioned in this article watch the video above or click here to watch the video!
- Timothy Bell is a heath/fitness educator, founder of Jungle Fit - Personal Training, and author of the "Jungle Fit Body Weight Solution" and "The Silverback Program". Timothy also runs professional Body Weight Specialist Certifications. For more information on Jungle Fit as well as Timothy Bell visit www.Jungle-Fit.com
---
Finally, There's A Comprehensive Bodyweight Training DVD that Goes Beyond The Boredom Of Basic Push Ups, Squats, Crunches & Jumping Jacks, While Equally Building Animalistic Strength, Lean Muscle, & Burning Fat!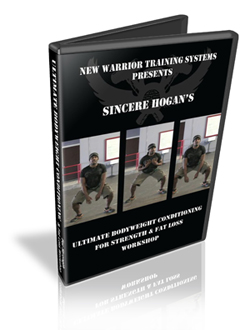 ---
3. Aggressive Strength Workshops!
Las Vegas, London, England and Fairfax, VA courses are almost sold out! Register today

NEW: September 24, 2011: Las Vegas, NV Level 1 Beginner Kettlebell/Hormone Optimization Workshop
Click here for more information
NEW: September 25, 2011: Las Vegas, NV Level 2 Intermediate Kettlebell/Hormone Optimization Workshop
Click here for more information
NEW: October 1, 2011: Fairfax, VA Level 1 Intermediate Kettlebell/Hormone Optimization Workshop (only two spots left)
Click here for more information
NEW: October 2, 2011: Fairfax, VA Level 2 Intermediate Kettlebell/Hormone Optimization Workshop (four spots left)
Click here for more information
New: October 22, 2011: London, England Level 1 Beginner Kettlebell/Hormone Optimization Workshop (only four spots left)
Click here for more information
New: October 23, 2011: London, England Level 2 Intermediate Kettlebell/Hormone Optimization Workshop (only seven spots left)
Click here for more information
November 5, 2011: Hawaii Level 1 Beginner Kettlebell/Hormone Optimization Workshop
click here for more information
November 6, 2011: Hawaii Level 2 Intermediate Kettlebell/Hormone Optimization Workshop
click here for more information
New: December 3, 2011: Houston, TX Level 1 Kettlebell/bodyweight training workshop
Click here for more information
New: December 4, 2011: Houston, TX Level 2 Kettlebell/bodyweight training workshop
click here for more information
---
Join The Aggressive Strength Affiliate Program And Start Earning Money Today!
---
If you have a website, a blogger page, or even a facebook page then you need to sign up for my affiliate program today and start earning money. My affiliate program gives you a chance to earn passive income which basically means you make money off my products while you are not working.
Click here for more information
---
4. What I Learned in 30 Lbs
Haley Estes, HKC
I remember it clearly...I stepped on the scale, and I saw the number I never thought I would see....it had happened. I was officially at that number. The heaviest I had ever been, and what I knew was my breaking point. I ended up curled up on the bed, crying, while my poor Husband was left trying to figure out why.
That day, after I put myself back together, I decided to fix it. I started slowly paying attention to what I was eating. Not really what I was eating, but how much I was eating. I noticed that on a normal Taco Villa run, I would usually get a burrito and a chalupa. The burrito itself filled me up. Why did I order the chalupa? An even better question, is why do I go ahead and eat it, even though I knew I was full?
I started paying attention to that. Not just noticing it, I mean really paying attention to that. I started eating on the smaller plates in our cabinet. Surprisingly, again, smaller portions filled me up. And yet, if I put more food on the plate, I would still eat it. What the....??
Then I moved on to only eating when I was hungry. This meant not eating because it was "lunch time". If I wasn't hungry at noon, why was I eating? You see, the myth that you have to eat to keep your metabolism burning, is just that...a myth. Studies have proven that your metabolism doesn't slow down, even after three days of fasting (for more information on this, check out the link on my site to Eat Stop Eat). Eating every few hours has nothing to do with it.
Once I discovered intermittent fasting, and became fascinated by it. The Eat Stop Eat philosophy really interested me, and Brad Pilon did an excellent job on the book. If you're interested, I highly recommend it (again, there's a link on my site to it).
I tell you all this, not to make it sound like a walk in the park, because it wasn't. The strange thing is, the hardest part was dealing with ME! Realizing that I didn't have to eat, just because it was time was extremely liberating. I realized that I don't have to think about food all the time. I don't have to spend hours preparing meals and carrying around Tupperware containers and freaking out if I didn't get to eat on schedule. I realized how obsessed I had become with eating! That was not helping me lose weight!
I am now thirty pounds lighter and I have maintained that for almost a year so far with little to no extra effort. Just making a few changes made a HUGE difference! Below are the simply changes I made in my diet that made the biggest differences.
1. Eating off the smaller plates. I was shocked at how little it took to fill me up! Then I was shocked at how much more I was eating, just because it was there! No other reason. Holy cow!!
2. I gave up Dr. Pepper. I am a caffeine addict, I will admit that. However, after really paying attention to the number of calories in each one, and how much of my workout was spent just making up for that, I switched to Diet Dr. Pepper for my morning caffeine fix. I would be better off to skip it completely, but hey, I need one vice, right?
3. I started integrating the intermittent fasting into my daily/weekly routine. You can incorporate intermittent fasting in several different ways. Eat Stop Eat calls for one to two 24 hour fasts a week. LeanGains calls for 14-16 hour fasts daily. Fast 5 is another approach that calls for daily 19 hour fasts. You can customize intermittent fasting to meet your lifestyle, and there are a ton of health benefits to fasting. If you're interested in reading the list of benefits that fasting provides, I recommend reading through Eat Stop Eat. The book goes into the different health benefits of the fast and why.
4. I started eating, when I was hungry (other than during my fast) and ONLY when I was hungry. No more of this eating just because it's time to eat. How did I get into that habit? What good was it doing me? None. Nothing. Oh wait! It was making me fat!
5. I enjoy the foods I love. That's right, I have not cut out any specific food from my diet (other than regular Dr. Pepper, unless I'm somewhere that doesn't carry the diet). I have just started paying attention to how much I eat. Calories out have to be greater than calories in. No way around it. If you want to lose weight, you have to spend more energy each day than you eat. Simple math.
6. I logged my daily food intake. I don't do this consistently anymore, but for a while, I logged everything I ate. I was shocked at how many calories I was eating. I didn't even realize how much I "grazed" at work when people brought snacks and all that. Logging the food really opened my eyes to what I was eating.
7. I've learned why I eat. Stress. Boredom Frustration. Anger. Being sad. None of these are because I'm hungry! I'm an emotional eater, and I hate that. Now that I know why I eat, I can find other things to keep me busy when I get that urge. Most of us will never know true hunger. Those "pangs" we feel are more than likely, just out of habit or emotional reasons.
8. I also learned something interesting about people. After people started commenting on my weight loss, it was not long before I started hearing things like "how much more are you doing to lose? You don't want to be skin and bones" (FYI - I'm not that small), "One donut won't hurt you", "Girls shouldn't lift heavy weights", etc. It was like once people saw that I could do it, they felt bad that they had not taken the necessary steps to improve their health. People were jealous and it showed. Surround yourself with a strong support group, and this kind thing won't bother you as much. Otherwise, you might start listening to the negative talk.
Through all of my trial and error, I learned that losing weight really isn't that hard. We make it hard. We buy into the hype that this food will help us lose weight, or that food will speed up our metabolism. There is no magic combination of foods, no magic formula. There's no quick fix. Calories out must be greater than calories in. How you make that happen is up to you. Intermittent Fasting is how I make that happen for me.
I hope you have found something in my experience here that can help you. I also hope you can see that getting rid of the fat doesn't have to look like rocket science. Then, it should be easy to maintain your new weight using the same principles that helped get it off.
Haley Estes is a certified HKC kettlebell instructor. She is the owner of Project Lean, which is a blog established to document her journey to lower bodyfat levels and to help motivate people to reach their weight loss goals.
---
Tired of training that is going nowhere? Working hard and getting weaker every week? This DVD is your ticket to avoid years of training frustration. You will learn all of the power exercises that provide the most benefit! Get stronger, get faster, get more powerful! Order the DVD right now and start the transformation!
Want to improve your bench press? It is on this DVD. Tired of your squat going nowhere? Solutions are on this DVD. Want to learn how to do the Olympic lifting exercises properly and how to work up to challenging exercises like the clean and snatch? It is on this DVD. Curious about how Mark puts together highly effective programs and pairs up exercises? This DVD covers it. It is two hours of very dense information that you will love. Trust me like all of my DVD productions, you are going to love this DVD and will get a lot out of it. If you workout with a barbell then this DVD is for you. If you want to make the best use of your time in the gym then this DVD is a must!
---
5. Pick up the $5.00 Kettlebell Primer Ebook Today
The Kettlebell Primer Ebook
This is a great ebook to get started with kettlebell training. First of all it only costs $5.00! It has information for beginners on how to get started with kettebell training, programs for MMA, how to add kettlebell training to your standard gym workouts, kettlebell training for fat loss, kettlebell training for size and strength, kettlebell training for speed and explosive power, as well as a directory of several kettlebell exercises. Includes pictures and descriptions. Definitely the best $5.00 you will ever spend!
---
6. Double Kettlebell Swing Technique And Application
Ramp up strength and conditioning, lose fat, build explosive power, and optimize hormones naturally! Order today and get 25% off! Details below
Bonus: comprehensive lecture on hormone optimization via nutrition, nutrition supplements, training, and restoration! Also, you will receive a download link for the hormone lecture notes when you place your order
Click here now for more information
---
7. Removing the "deadwood"
By Frank DiMeo
I have a huge oak tree in my front yard which provides a lot of shade on hot Florida days. Like a large green umbrella, its' branches spread out about 25 feet from the trunk.
However, if you look at it from underneath, you see dried up dead branches (called deadwood) still attached to the tree. They serve no useful purpose to the tree any longer, and in fact, can be become a hazard during high winds and storms when they fall.
Deadwood is in our lives, our training, and our businesses, also. Just as it should be removed from a tree, it is beneficial to remove it from these areas as well.
We're not going to discuss deadwood in our personal lives here, you can meditate on what that means on your own. We will be looking at business, though.
Deadwood can show itself in the form of unwise business practices.
Let's look at some of these that occur in the fitness training business.
Here's a few:
· Advertising that does not bring in new clients
· Buying training equipment you like, rather than what your gym needs
· Over-spending and going into debt
· Untrustworthy associates
· Keeping uncommitted clients
Each one has its' own set of problems, however, the last one can be a slow suicide for your training business.
Keeping people who are not fully committed to training consistently and hard can poison your business. Even though they are paying to train there, they can cost you more than you might think.
Continued absenteeism for no good reason should not be tolerated no matter how much they are paying.
When these people do occasionally show up, their slack attitudes infect others. Complaining about the difficulty or type of training you are doing, and only showing a half-hearted imitation of effort can be a detriment to your whole operation. In the words of Jeff Martone, "No good can come of it."
Seasoned trainers, coaches, and gym owners usually know this; however, newer ones might not.
The standards must be kept high in training, don't let whiners water down what you offer because they pay part of your rent.
I was watching a DVD by Zach Even-Esh last week and he said to run your gym like you don't need the money. That was probably difficult for him as a family man, but he did it that way, and enjoys great success today.
That just crystallized my focus on getting rid of the deadwood in my gym, though there wasn't too much to start with.
I "deleted" some deadwood clients and refused readmission to others who wanted to return after previously quitting.
This had a great effect on my other athletes; it showed even more value in our training.
A couple of other things that are vital:
· Keep learning from credible sources
· Keep your own training at the highest level of excellence as an example to the people you train
Deadwood has to be removed periodically, not just once. So, check for it, deal with it and move on.
---
8. Hormone Testing Options That Don't Cost A Small Fortune

Male Hormone Panel - $159
The Male Hormone Panel™ (MHP™) allows the clinician to assess male hormone functionality affecting vigor, vitality and virility using a non-invasive saliva collection. The aging process is inevitable, but restoring lost male vitality is within reach.
The Male Hormone Panel™ (MHP™) evaluates the androgen pathway by measuring the free fractions of 6 hormones: Androstenedione, Testosterone (T), Dihydrotestosterone (DHT), Estrone (E1), Progesterone (P), and DHEA/DHEA-S.
Expanded Male Hormone Panel - $179
The expanded Male Hormone Panel™ (eMHP™) contains all the tests in the MHP™ plus FSH and LH
Replacement test kit(s) or refund of test kit purchases will only be provided upon the postage-paid return to RepairRecoverRestore.com of the test kit in its entirety. If you have reason to believe your test has been compromised or that you failed to follow directions correctly, please contact us and DO NOT mail the test kit to the lab for analysis until you have spoken with our customer service representative. Tests mailed to the lab for analysis will not be refunded for any reason.
Click here for more information
Cycling Female Hormone Panel - $299
The Cycling Female Hormone Panel™ (FHP™) is a non-invasive test consisting of 11 saliva specimens collected during specified time periods throughout the menstrual cycle. The ovaries are a major component of the female reproductive cycle and they release hormones in a cyclical manner which is referred to as the menstrual cycle.
The Cycling Female Hormone Panel™ provides a dynamic mapping of the free fraction levels of Estradiol (E2) and Progesterone (P) throughout one cycle. In addition, the cycle average of Testosterone (T) and DHEA are measured. The Cycling Female Hormone Panel™ includes: Estradiol (x11), Progesterone (x11), cycle average Testosterone and DHEA/DHEA-S, 3 Progesterone production indices, 4 Estradiol production indices, a full cycle P/E ratio graph and an example of a restorative plan.
Expanded Female Hormone Panel - $409
The expanded Cycling Female Hormone Panel™ (eFHP™) includes an additional five (5) FSH and five (5) LH measurements
Replacement test kit(s) or refund of test kit purchases will only be provided upon the postage-paid return to RepairRecoverRestore.com of the test kit in its entirety. If you have reason to believe your test has been compromised or that you failed to follow directions correctly, please contact us and DO NOT mail the test kit to the lab for analysis until you have spoken with our customer service representative. Tests mailed to the lab for analysis will not be refunded for any reason.
Click here for more information
---
Power Shot: A pre workout energy drink that delivers! No caffeine, stimulants, aspartame, or fake dyes! Power Shot is loaded with high quality ingredients to increase the quality of all of your workouts!
No International Orders: Only US orders at this time
Last year I stopped by strongman legend competitor and top strength coach Mark Philippi's training center to talk to him about a new DVD project. While I was over there, Mark mentioned that he had a new pre-workout supplement called Power Shot that he wanted me to try. I am skeptical about pre-workout drinks as most of them are loaded with caffeine, stimulants, artificial colors, flavors, dyes, aspartame, and other garbage ingredients that I avoid. However, I trust Mark as he is a man with integrity and he is not going to put his name on some garbage product just to make a few bucks. If he does not believe in it and actually use it himself he is not going to endorse it.
I wanted to design a supplement that was better than any on the market. Powershot is a high quality product for athletes and individuals that are serious about their workout performance. Powershot is filled with substantial amounts of ingredients that are proven to increase strength, endurance, and energy. All of our elite athletes at PSI take Powershot to maximize their workouts. Take 2 scoops 20 min before your workout and get ready to get strong!
---
Great Organization To Help Animals In Need
Voice for animals is one of my favorite non profit organizations. Unlike many other non profits, the founder of Voice For Animals does not pull a six figure income (not even close!). You can rest assured your donations are actually going to help animals not pay for someone's yacht, new Mercedes, or kid's trust fund.
Fore more info, go to http://vftafoundation.org/
---
Transmax 500mg Resveratrol -- Potent estrogen antagonist and reduces conversion of Testosterone into estrogen! 1000 times the potency of red wine
Resveratrol is found in red grape skin and is a potent antioxidant. It is also found in mulberries, peanuts, knotweed (polygonum cuspidatum) It reduces fat retaining testosterone destroying estrogen levels in men by competing for estrogen receptors. If you are a man with a fat stomach and excess fat on the glutes and legs then you have estrogen dominance and need to do something about it. Resveratrol will help block your conversion of testosterone into estrogen. That is a good enough reason alone to take it but the benefits do not stop there.
Resveratrol is a potent anti-aromatase inhibitor. The enzyme aromatase is highly active in white adipose tissue in the lower half of the body and has an a major role in deciding the fate of testosterone. Aromatase converts testosterone into estrogen. While some conversion is necessary for hormonal balance, too much conversion is a big problem and depletes men's testosterone levels. Resveratrol helps block the conversion of testosterone into estrogen.
---
Aggressive Strength Shirts
25% off on all shirts!
Click here for more information
---
9. Mike Mahler Buyer's Guide to Aggressive Strength Kettlebell DVDs



Q: I'm a beginner at kettlebell training--which DVD should I get?
Start with my Level 1 Beginner Kettlebell Workshop. This DVD covers all the basic exercises and in great detail. Level 1 Beginner Kettlebell Workshop also comes with a The Aggressive Strength Kettlebell Workshop Manual, an e-book loaded with photos, exercise descriptions, along with effective training programs for attaining your goals. With this package, you'll learn which exercises to do--and which program works for you--so you can get started safely and effectively.
Will I need two kettlebells to follow the Level 1 Beginner Kettlebell Workshop DVD?
There are plenty of single-arm exercises in the Level 1 Beginner Kettlebell Workshop, so this DVD is a good fit if you only have a single kettlebell. Even so, do yourself a favor and start incorporating double-kettlebell drills into your program. Double KB training is superior to single KBs for many reasons, chiefly, double KB training will improve your one-arm KB skills-- but not the other way around.
Level 1 Beginner Kettlebell Workshop DVD
"Just have to say EXCELLENT DVD. I've been using kettlebells for a few years now but the breakdown you did on the exercises really helped improve my form just on the first workout. The point about how to properly rack the bells and not kill your forearms was so simple. I would instinctively do it on single arm kettlebell exercises but failed to do it on double bell exercises and couldn't figure out what I was doing differently. Again, excellent DVD. I'll have to watch it a few more times to really catch all the details."--Alex Bailey
If you are new to kettlebells or want to master the basics this is the DVD for you.
Q: I'm purchasing the Level 1 Beginner Kettlebell Workshop DVD but I'm wondering if there's another good beginner DVD as well?
Beginners who are serious about making the best gains in kettlebell training should pick up The Boys Are Back In Town Kettlebell Workshop DVD. This DVD set features in all-star cast of fitness experts sharing invaluable advice and tips. In addition to dramatically improving your kettlebell skills, you'll learn about joint mobility for pain-free movement, kettlebell sport/competition training, specialized breathing techniques for optimal sports performance, and what it means to optimize the secondary sex hormones--and why it's so important to your health. There's nothing on the market like--or even close to--this incredible, comprehensive and unique DVD set. Don't be intimidated! The information presented on The Boys Are Back In Town Kettlebell Workshop DVD is far-reaching but still appropriate and beneficial for every beginner.
**Bonus: Purchase both DVD's together and I offer a special discounted price. See side panel
I've been training with my kettlebells for several months and I'm feeling confident with the Press, Swing, Clean and Snatch. Now, I'd like to add some variety to my training, which DVD should I buy?
I have three goal-specific DVD programs available and chances are very good at least one of them is a great fit for you. Are you looking to lose fat while learning more about the benefits of optimal hormone levels? Get The Kettlebell Solution for Fat Loss and Mental Toughness.

The Kettlebell Solution for Fat Loss and Mental Toughness
"I owe you my life. I have followed the HFT you suggested from your dvd, also cut out starches/sugar/fried foods and forced myself to eat more fruits and vegetables. By no means are my workouts and diet perfect, but I have lost 23 pounds so far, 23!!!! I am down to 222lbs and I hope to get to 170-180 by summer. I seriously can't thank you enough. You are a great man doing great things. P.S. Funny thing is I told a couple buddies about KB's and your site months ago and they laughed at me. Now they are both getting your dvd's."--Freddy Maysonet
The Key to winning the battle against fat and keeping it off is to build as much muscle as possible. Yes ladies this means you as well! Learn why with The Kettlebell Solution For Fat Loss And Mental Toughness.
Kettlebell Solution for Size and Strength
If you enjoy lifting light kettlebells and have no desire to be strong with a powerful physique, then this DVD is not for you. However, if you are ready for a new challenge with kettlebells and desire to maximize the benefits of kettlebell training, get this DVD today.
The Kettlebell Solution For Size And Strength will show how to get much stronger with kettlebells and build a muscular physique as well. This detailed DVD is for all levels and covers the basics enough for beginners and offers new challenges for experienced kettlebell lifters.
---
10. The best kettlebell work capacity DVD?
Here is one answer:

I have not even finished the "In the Age of Quarrel" Kettlebell Dvd but had to give a testimonial on the dvd. I am an IKFF certified kettlebell training so I loved seeing allot of the exercises that I learned from Steve Cotter, Ken Blackburn, and Jason Dolby. This dvd is a must for any kettlbell lifter. This is the best information I have seen on Sport Kettlebell lifting. I also recommend this to any trainer who practices "Hardstyle" because a weak trainer is an ignorant or close-minded trainer.

Also the joint mobility and dynamic mobility drills are awesome for any martial artist of any style. This mobility training practiced on a regular basis would make an advanced martial artist much more dangerous.

I also recommend this for any personal trainer or strength coach looking to make them stand out as the best in comparison to the competition.

--Kyle Rourke NASM, IKFF, RKC, CST
Kettlebell Training In The Age Of Quarrel DVD Course!
Time to develop extreme work capacity, take joint mobility to the next level, optimize hormones and brain health, achieve much needed stress reduction and restoration, and maximize the unique benefits of the versatile kettlebell!
Bonus #1: FREE Shipping for all US orders
Bonus #2: Free Report #1: Why you must optimize the CEO of all hormones for comprehensive hormone optimization for health and vitality. (a download link for the report will be emailed to you when you place your order) ($19.95 value)
Bonus #3: Free Report #2: Optimizing Brain health for well being and incredible physical performance (a download link for the report will be emailed to you when you place your order) ($19.95 value)
Click here for more information
---
StrongerGripTM Monster Sledge
A massive sledge that is built for beating and will reward you with unbelievable conditioning. A great thing about the StrongerGripTM loadable sledges are the big hitting surfaces. The large sledge face lets you get in some tire slammin without worrying about the sledge twisting in your hands and hurting your wrists. Another benefit of the larger hitting surface is the reduced bounce back. The Monster weighs in at 19 lbs empty and loads up to 50 lbs with steel shot/media and heavier with lead shot.
Shipping weight -22lbs
Click on the banner below for more info

The Ultimate Sandbag
This Sandbag is by far the best one on the market. No other model even comes close. No more sand showers with this baby! In addition it has handles on it which come in handy for cleans, presses, and tons of other great exercises. Sandbag training rocks for variety or as a stand alone training system. It hits your body in ways that no other training system can duplicate. If you love kettlebell training, you will love Sandbag training.
Click here for more information
Jungle Gym
Do you workout at home? Travel a great deal for work? Do you enjoy bodyweight training? If yes to any of the above you will love the Jungle Gym. Great way to blast the upper body (both pushing and pulling muscles) and work your stabilizer muscles like crazy. Be prepared to shake all over the place when you do pushups with this killer training tool. In addition to being very portable it is inexpensive and like all other Lifeline USA products it is built to last. Get one today.
TNT Cable
Lifeline USA's TNT Cable is the ultimate strength enhancement tool for learning forced acceleration. Once you learn forced acceleration you will be able to blast through sticking points and learn what powerlifters call one gear strength. This means slamming a weight up from start to finish in one smooth manner. This is a great product for increasing Military Press strength and allows you to do a ton of exercises that you cannot do with any other implement. Incredible tool for building stabilizer strength and for rehab. Finally, It is a must have for busy travelers and is the ultimate home gym for those on a budget.
Power Pushup 2
This is the ultimate tool for adding resistance to pushups. It is perfect for people that travel.
---
11. Not sure which kettlebell is a fit for you? Check out my Kettlebell Buyer's Guide
Lifeline USA Kettlebells: 100% USA made kettlebells!
The marketplace is finally ready for a high quality kettlebell at a great price. I have no doubt that you will love these kettlebells and you cannot beat the price! Click here for more information
---
12. Kettlebell Training Information
http://www.mikemahler.com/kettlebell_info.html
---
13. Aggressive Strength Magazine Archives
http://www.mikemahler.com/newsletter
---
Until next time.
Live Life Aggressively!
Feel free to email me with your comments and feedback at mahler25@yahoo.com
Mike Mahler
---
Post Your Response to Aggressive Strength Magazine Issue 198 - 8-25-2011